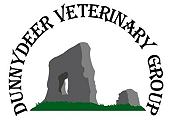 There has been a veterinary practice in the Insch area for over 100 hundred years.
McIntosh and Partners were followed by Clemo and Partners and then by Russell and Wood. The current partnership of Aileen MacArthur and Chris Solomon, trading as Dunnydeer Veterinary Group, was created in 2008.
A purpose built portacabin surgery in Mr Clemo's garden was state of the art in its day but by 2010 we had far outgrown the Rannes Street surgery. We moved out to Muirhead House in Insch Business Park where we can cater for the growing local pet population, as well as our well established farming community.
We are a first opinion practice with 4 full time vets who share the on-call rota and 3 part-time vets. Two part time vets concentrate on small pet medicine and surgery whilst the other vets cover all species, although some do have specific areas of expertise. We also have 3 nurses who provide a first class service for our clients and their pets. Our dedicated team strive to treat all pets with empathy and cater for their individual needs. We are well equipped to deal with most cases and we have good support from specialists to whom we can refer complex cases.
Our ambulatory farm animal and equine service is well established, we cover approximately 900 square miles of Aberdeenshire, although most of our clients are within 12 miles of our surgery. We run our own out-of-hours 24 hour service and can attend to most emergencies within an hour. We feel preventative medicine is of utmost importance and we like to be pro-active in this area. We have an experienced team who continually endeavour to develop their skills and understand that it is important to keep up to date with emerging diseases and control policies.
Dunnydeer Veterinary Group
Muirhead House
Insch Business Park
Insch
Aberdeenshire AB52 6TA