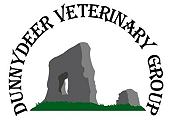 Dunnydeer Veterinary Group
Muirhead House
Insch Business Park
Insch
Aberdeenshire AB52 6TA
Dunnydeer Veterinary Group has been providing care to the cattle, sheep and pigs of the Insch district (and beyond) for well over three quarters of a century.
Our current farm vet staff have over 60 years of veterinary knowledge and experience to call upon and are always on hand for that middle of the night emergency when you need some help with a calving cow. Just as importantly, however, we also offer a comprehensive preventative health care program; we are particularly interested in herd health planning, specifically tailoring each plan to suit the individual needs of each farm to provide reliable, cost effective solutions. We also believe passionately in bull fertility testing as a means of preventing problems before they occur.
Please see the links below for more information, the useful contacts link contains some particularly helpful advice. If you have any further queries please do not hesitate to contact one of our friendly and helpful members of staff.
Useful Contacts & Web Sites
We have complied some useful information which you may find of interest, please click here to view the current list of information.