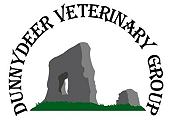 Dunnydeer Veterinary Group
Muirhead House
Insch Business Park
Insch
Aberdeenshire AB52 6TA
Here at Dunnydeer Veterinary Group we aim to provide a caring, comprehensive and personal small animal care service.
Our team of dedicated veterinary surgeons and nurses strive to care for your pets with compassion. We run our own out of hours emergency service and can get access to your pets records and lab results at all times. The practice is well equipped to manage most conditions and we have good relationships with specialists for advice or referrals. We can hospitalise pets over-night or at weekends and whilst we are not here the whole time we organise their monitoring and care to suit their needs.
Preventative health care is very important to us and we can advise you on such issues as feeding, weight control, vaccinations, parasite control, and neutering.
We strongly advise pet insurance which can help take the financial worries away if your pet needs an emergency or major procedure.
Click on any link below for more details or give us a call on 01464 820235